Today, the most popular and promising trend in the field of information storage is the use of cloud services. It implies that data are kept in an online repository, which is a set of servers distributed across a network. For a user, it looks like a large virtual server, which is also called a cloud.
What Is Google Drive?
One of the most famous cloud storage services is Google Drive, provided by Google. It has appeared in 2012. The Google Docs service was initially used to store user data. Google Drive has become a more functional, convenient, and compliant option. It is a virtual space available to users of Google mailboxes. They can store data there, edit documents, and make comments.
NOTE!One can store up to 15 GB of information on Google Drive for free. There is also paid subscription that allows one to significantly expand the available space — from 100 GB to 2 TB.
The Functionality of Google Drive
Google Drive consists of several applications and allows one to perform the following tasks:
Edit shared text, check spelling, or leave comments using Google Docs.
Calculate and plan a budget.
Work with spreadsheets.
Create questionnaires, conduct research, and receive feedback from the company's clients.
Make presentations.
Use convenient collective drawing tools.
Store photos, audio files, and videos.
NOTE! All you need to edit documents and work with files in real time is a stable Internet connection.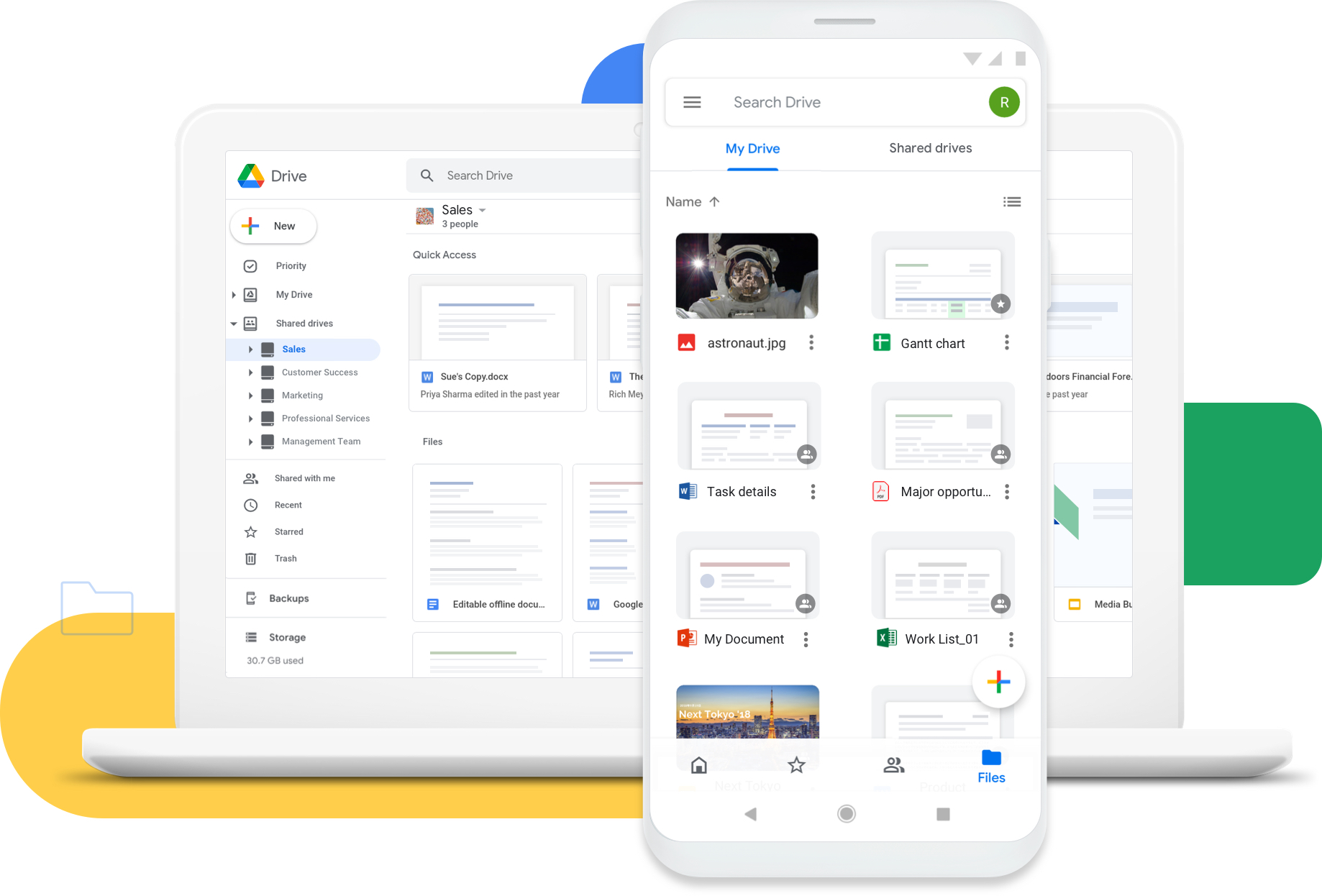 Google Drive's Advantages
The service can boast several significant advantages that distinguish it from other clouds and similar repositories. They include:
Easy access to the file contents. Google Drive is a great tool for user collaboration. To share information, it is enough just to provide a link to it. One can access Google Drive both from a PC and any mobile device.
Files stored on GoogleDrive are protected by an advanced encryption protocol. The service checks the uploaded and downloaded files. Those with malicious software detected are immediately deleted. The cloud storage is not local, so the risk to user devices is significantly reduced.
Easy integration with other tools. The service supports more than a hundred different file types, including the most widespread and familiar PDF and CAD. Users can work with Microsoft Office documents without having to convert them to another format. One can work with files stored on Google Drive in any other Google application — it's enough to grant access to them.
Quick execution of any tasks. Google Drive utilizes special means and tools to ensure high-speed data processing and search for the necessary files. Modern AI technologies are involved here, which will help the user to achieve the desired result as efficiently as possible.
The disadvantages of this cloud storage include the limited amount of space provided for free and the fact that documents kept in a cloud are indexed by the search services.
The Google Drive cloud storage will allow one to find an alternative to HDDs and SSDs, free up space on one's PC, and store files in strict order. One can access documents located there from any device with a connection to the Internet.